"With a massage chair, where you do massage is now as far-reaching as your own imagination."
- Robert Noah Calvert - Massage Magazine
LE Therapy will be at the
Connecticut Salsa Fest
on Sunday, May 27th from 1pm-2am.
Stop by for a massage!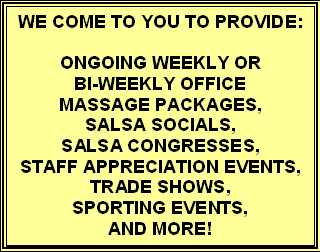 Get a Price Quote for Your Event
NOW YOU CAN
COME TO US AS WELL!
CHECK THE SCHEDULE BELOW TO SEE WHERE WE ARE!
Call 888-857-0979 in advance
to book your chair massage appointment!
CHAIR MASSAGE IS BY APPOINTMENT ONLY
Massages are scheduled anywhere from 10-20 minute increments
within the time frame listed below by appointment only.
Schedule is updated on a weekly basis - so check back frequently!
If you have purchased massage with a salsa course, availability for massage is during the hour following your scheduled group class. Please call to schedule all massage appointments!
Location: Pearl Studios, 500 8th Ave., 4th Floor (bet. 35/36th Strs.) NYC
Ripley Grier Studios, 520 8th Ave., 16th Floor, NYC
Evenings: M-F 7:30-11:00pm, Some Sundays
Location: W72nd Street Studios, 131 W72nd Street (bet. Columbus & B'way), NYC
Evenings: M-F 5:00-10:00pm, Some Sundays
We also offer Chair Massage at all of our practice parties at a discounted rate of $1 per minute and we raffle off a FREE 10 minute chair massage as well! Check our "Special Promotions" page to see when our next party is scheduled!
PRICE LIST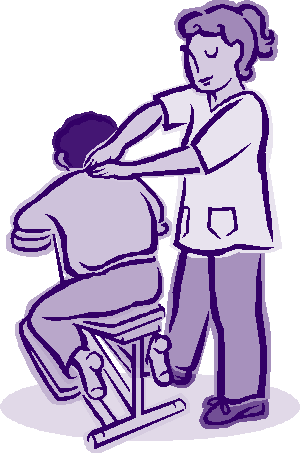 10 Minute Chair Massage - $15
15 Minute Chair Massage - $20
20 Minute Chair Massage - $25
Buy in Bulk & Save!
4 10-Minute Chair Massages (save $10) - $50
8 10-Minute Chair Massages (save $15) - $105
Please continue to check back to see where LE Therapy will be next to schedule a relaxing chair massage!