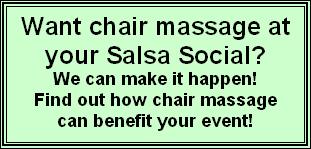 A Healthy Dancer Is A Happy Dancer!
Take Care of Your Body & Your Body Will Take Care of You!
Call to schedule your chair massage
(888) 857-0979!
MASSAGE MEETS SALSA
MASSAGE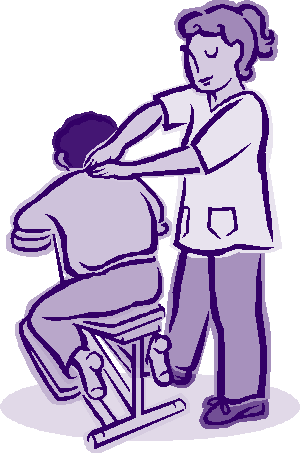 Look for this icon to add a massage to your purchase!
SALSA
NOW YOU CAN ADD A MASSAGE TO YOUR SALSA COURSE PURCHASE!
Here's how it works!
Purchase a 10, 15 or 20 minute chair massage with your salsa course purchase and shedule your massage within the hour following your class. You can purchase a single massage or as many as 8 massages.
You will receive your massage card indicating the number of massages you have purchased. Once you have purchased your massage(s), you can call 888-857-0979 and schedule your massage within the hour prior to or following your class. (e.g. your class runs from 8:00-9:30pm, schedule your massage between 9:30-10:30pm.) Scheduling is done on a first come first serve basis, so scheduling your massages promptly after purchase is suggested. If you need to reschedule your massage appointment, cancellation must be done within 48 hours of your scheduled appointment. (See "Scheduling Policy" below.)
Purchases of 4 or less massages expire after one course cycle (1 month). Purchases of 4-8 massages expire after two course cycles (2 months).
Click here to see our AWESOME Massage/Salsa/Video Combo Packages for Extra Savings!
The Chair Massage Experience!


Chair massage is a form of relaxation massage. The length of a massage session is 10-20 minutes, the length of a typical work break. The Massage Chair is wiped down before and after massages with sanitary wipes. You will be seated in a comfortable chair in a quiet room. Soft music may be played to help you relax. During the massage, the recipient is seated and fully clothed. No oil is used. Therefore, no change in attire is necessary. The massage therapist uses techniques that focus on the upper part of the body – neck, head, shoulders, back, and arms. Chair massage is a great way to cool down after your fun and challenging salsa dance class!

LE Therapy Salsa Instruction & Chair Massage Combo

LE ON THE GO

LE MASSAGE MEETS SALSA EVENT!

MASSAGE MEETS SALSA EVENT - 2010 NY SALSA CONGRESS

LE CORPORATE CHAIR MASSAGE SERVICES
PAYMENT GUIDELINES
Only cash payments will be accepted if payment is made on the day of massage. Payment by credit card or check can be paid 72 hours in advance via PayPal to Liccardo Enterprises. To register with Paypal go to www.paypal.com or simply click on the paypal icon next to the item you would like to purchase. There are no refunds once a massage is purchased.

CHAIR MASSAGE SCHEDULING POLICY

Payment must be received prior to booking a chair massage. Any rescheduling of your appointment must be done within 48 hours of your chair massage or you will be charged the full amount. Same day scheduled appointments and payments must be made and received before 3:00pm.
PRICE LIST
10 Minute Chair Massage - $15
15 Minute Chair Massage - $20
20 Minute Chair Massage - $25
Please make your chair massage purchase under your prospective course at "Class Schedule" or just...